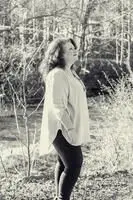 Dr. Elaine Dilbeck was born in a small town in Tennessee and moved many times over her lifetime. She is a sexual abuse survivor, former battered woman, recovering co-dependent. Both sides of her family carry the generational curse of sexual abuse and substance abuse. There came a time that she felt this curse needed to end.
She is a best selling author of two books:
1) LOST IN THE FOREST
2) CRIES of a BROKEN MAN and SCREAMS of a BROKEN WOMAN.
3) HEART of a THERAPIST
She is writing her fourth book now
Dr. Dilbeck was part of a documentary that aired 2019 on TLC. Click here to watch Taken at Birth
She is using her and her families' experiences to help others to know they are not alone. She has been subjected to unhealthy relationships and knows the struggle to find ones self. She started out wanting to teach other professionals and that desire grew to wanting to help families as well. IT IS TIME for the TRAUMA to stop with families.
She received her BA in Psychology, MA and EdD in Counseling Psychology; completing a post-doctoral certificate in Clinical Foundations of Trauma. She is a Licensed Professional Counselor with the state of GA and a certified Clinical Supervisor with the LPCA. She is a certified as a Trauma Treatment Specialist, Certified Family Trauma Professional and a certified Mental Health Integrative Professional. She has worked in the mental health field for more than 10 years. She currently has over 150 hours in training in trauma and PTSD including training with Star Providers who train civilian providers to work with active and former active duty military. Dr. Dilbeck has been a presenter at several conferences on trauma/PTSD. She holds training and workshops on PTSD/ trauma along with Conversion Disorder; teaching other mental health professionals how to recognize and treat trauma. Her training is currently being filmed and will appear on Youtube in the near future. She is a member of Chi Sigma Iota counseling honor society. She has 5+ years working with corrections as a mental health counselor and working with addictions.